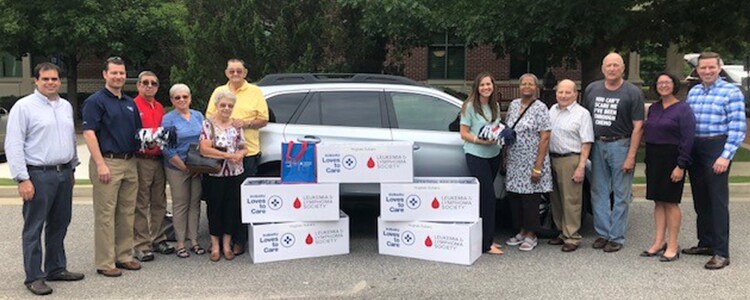 Blankets, messages and warm smiles were among the things given to six cancer patients and their families on July 18 as they walked into the University Cancer & Blood Center. This is the third consecutive year Subaru of America Inc., and Leukemia & Lymphoma Society (LLS) have collaborated to put together this event. 

Messages of hope and encouragement for the patients were written by Hughes Subaru customers, employees and children throughout the months of June and July. Those who wrote messages received a reusable tote bag to help spread awareness of LLS and the initiative.

"We had several customers' children that colored on them which was heartwarming," said Lindsay Lucas, marketing director for Phil Hughes Automotive Group. "We let the messages collect for a month and a half and finally saw how fun some of them were."

The blankets serve both practical and symbolic purposes, according to LLS.

"When patients are going through treatment, chemotherapy specifically, it can be very cold in the rooms and their body can react," Tricia Hernandez, senior patient access manager at LLS, said. "These blankets are not only that physical sign of warmth to that cancer patient, but also symbolically bringing warmth from Subaru and LLS locally."

The event started with a national partnership that started in 2015, it has since collected over 105,000 blankets and 12,000 arts and crafts kits to hospitals and cancer treatment centers across the country, according to Subaru's website.

Blaine Bostelman, director of operations at the University Cancer & Blood Center, said that those in attendance were excited about the partnership.

"When I called these patients, one said, 'Normally I don't want my picture taken, [...] but for LLS, I would do anything they asked me to do because they were such a vital part of my treatment process, my healing process and my emotional support process,'" Bostelman said. Lucas said she was pleasantly surprised during the event, having been told that due to confidentiality reasons, they would not be allowed in the treatment areas to see the patients themselves.

"It was a great surprise and it was so nice to meet them and hear their stories," Lucas said. "It gave more of a face with what we were doing."

LLS is a nation-wide health agency that describes its mission as to "Cure leukemia, lymphoma, Hodgkin's disease and myeloma, and improve the quality of life of patients and their families."

According to Brooke Boswell, an oncology support advocate at the Center, LLS has provided many of their patients with co-pay assistance for oral chemotherapy prescriptions and IV treatments, which can cost up to thousands of dollars per month.

Local support groups and educational meetings for both patients and caregivers alike are part of LLS' mission.

"So often we just think about the patient, but we got to think about the person who's really supporting and caring about that patient," Bostelman said. "If you get someone that's really sick, it's draining to be focused on them 24/7, and sometimes you just need to talk to somebody to get through that process."