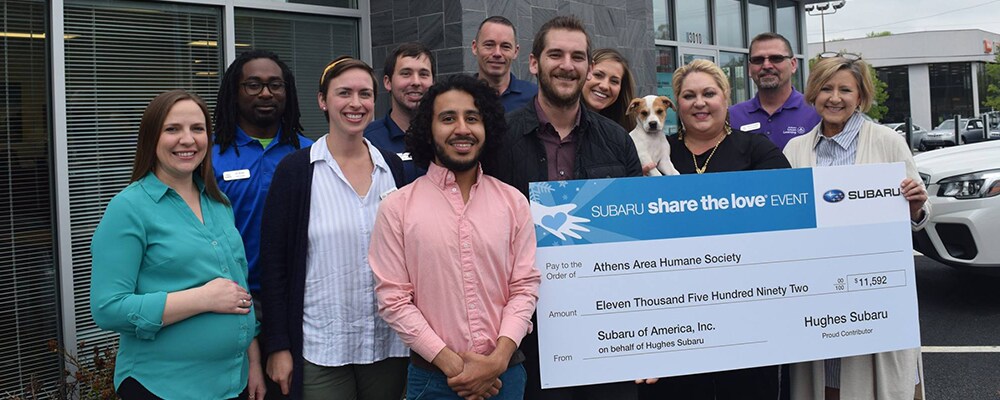 Hughes Subaru Donates over $50,000 to the Athens Area Humane Society! Hughes Subaru continues our commitment in support of our hometown partnership with the Athens Area Humane Society through Subaru's Share the Love Campaign. On April 12, 2019, Hughes Subaru presented the Humane Society office with a check for $11,592.00. Funds were raised during our "Share the Love" campaign, allotting for monies from each car sold to be provided to one of Subaru's four national partnerships or our hometown partnership with the Athens Area Humane Society.

This sizeable donation pushed our 3-year giving over $50,000!
'Share the Love' didn't stop there for Hughes Subaru! It was love at first sight for our sales associate, Taylor, who fell in love with the adorable puppy seen in the photo and adopted her! Sammie the Subie has quickly become the four-legged mascot of the Hughes Subaru dealership and can even be found in the showroom most days!
Through the partnership, past donations have assisted the Athens Area Humane Society to partner with no-kill shelter groups in Northeastern states with a shortage of adoptable animals to provide transport for puppies and kittens available for adoption. Past donations have also helped to allow AAHS to offer free pet food for owners who may not otherwise be able to afford it through their Food Bowl Program. The center has also used the funds for their Spay it Forward program, which focuses on free spay and neuter surgeries for owners which cannot afford the procedure.
The Athens Area Humane Society supports over 5,000 animals annually. AAHS is a fully donor supported no-kill, non-profit organization dedicated to lowering area euthanasia rates through rescue, adoption, spay/neuter, education, and pet retention programs.
2017 Check Presentation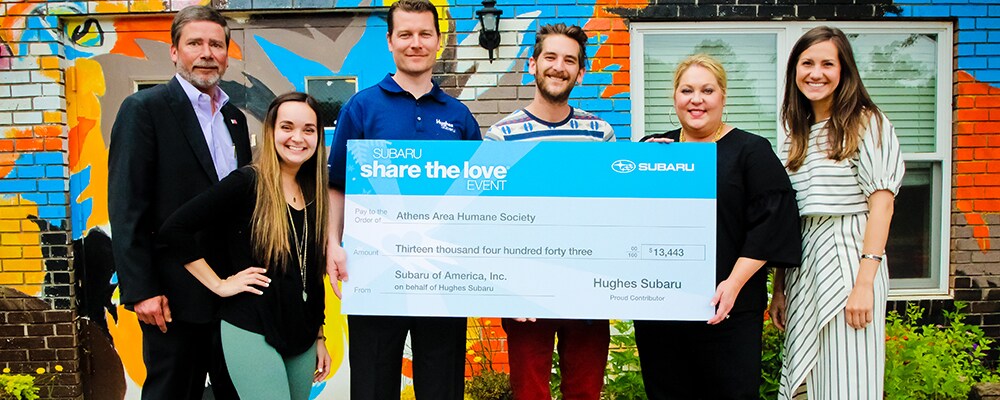 Hours
Monday

9:00am - 7:00pm

Tuesday

9:00am - 7:00pm

Wednesday

9:00am - 7:00pm

Thursday

9:00am - 7:00pm

Friday

9:00am - 7:00pm

Saturday

9:00am - 6:00pm

Sunday

Closed
Directions
Get Directions