Searching for Quality Service? Look No Further than Hughes Subaru

Schedule Service
(Please call to schedule Recall service appointments.)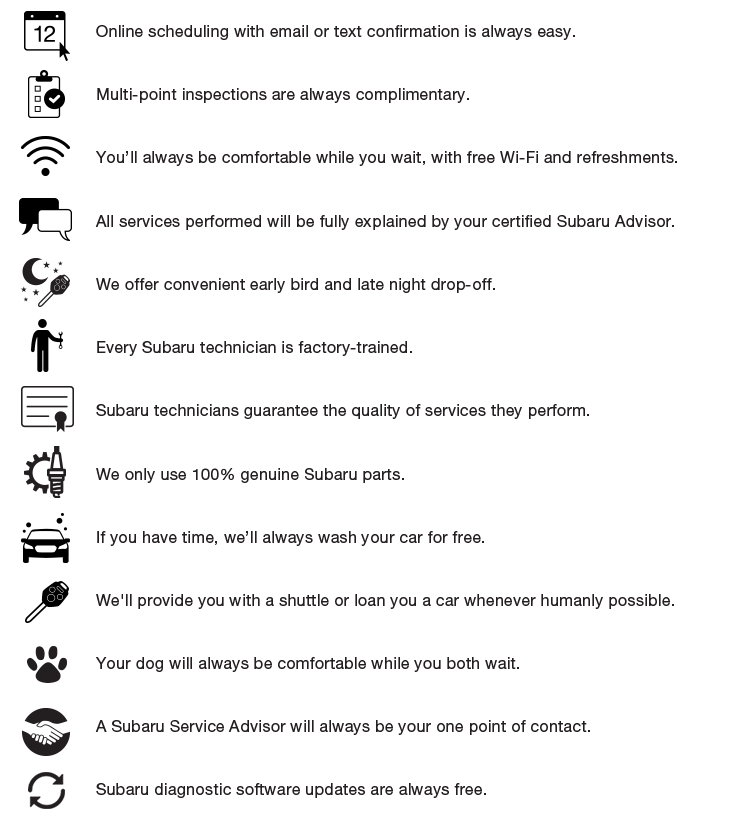 Serving The Athens, Winder, Jefferson, Monroe and Watkinsville, GA Areas
When you're a car owner, you're tied down to a serious investment. No matter if you're driving a car that's seen thousands of miles or just purchased a new model, a time will certainly come when you need to bring it in to perform maintenance. At the Hughes Subaru Service Center, our expert team of mechanics work tirelessly to make sure that every car coming through is treated with the love and care it needs - and yours could be too!
If your Subaru needs maintenance done, you can schedule an appointment easily through our website, or even check to see what your car's maintenance schedule looks like. Then, when you finally come into our Athens, GA dealership for service, we'll be fully prepared to offer an exceptional job with whatever work you may need done.
If you have a stricter budget to stick to, we also offer a wide array of servicespecials to alleviate any stress that can come with a maintenance payment. Our goal is to make sure all of our customers are protected while on the road, and we're confident that our rotating specials can make getting service done as easy as possible.
If you have a maintenance check or part replacement that you've been putting off like an oil change or tire rotation, come into our dealership with your vehicle to get it taken care of today. We'll put our best work in so that your Subaru can do what it does best - safely getting you wherever you need to go, with the least bit of concern. Schedule an appointment online or call us at (844) 338-9455 to make an inquiry today!
Auto Repair Services Include:
Oil Change
Brake Service
Battery Replacement
Filter Replacement
Tire Rotation
Wheel Alignment
Coolant Flush
Transmission Service
Spark Plug Replacement
Suspension Repair